Getting Started With Coinbase Pro
In my quest to learn more about actually using Bitcoins, I needed to get hold of some by purchasing them. There are a lot of online platforms out there for buying and exchanging
because frankly, it's an easy way to make money through charging fees, and perhaps selling them at a slightly higher price than the current market rate.
A friend recommended Coinbase to me because I explained that I was more interested in keeping them in my own wallet (using Electrum), rather than keeping them in an exchange, or in some online platform.
This tutorial will cover using Coinbase Pro in order to trade
on the market and touch on Coinbase itself.
Table of Contents
This Is NOT Sponsored
This post is not sponsored in any way, and is no way supposed to represent any "financial advice". This is just me documenting the things I've learned through using a platform that was recommended to me by a friend.
No Fee To Join
Don't let the "pro" put you off.
There is no fee for joining.
There is no monthly fee.
It's actually simpler than it looks, especially once you read this.
If anything, you should be more scared about how addictive it can feel after having placed your first trade. I urge you to only use your "pocket money" for doing this. That is, money that you have set aside in your budget for personal fun and are prepared to lose. E.g. the money you would use to buy a coffee, or buy a TV. The nice thing is that unlike purchasing a TV, you are more likely to be able to trade the
back for real money for much closer, or even more than what you spent in the first place.
Buying Bitcoins - Deposit Some Money
After signing up, you aren't going to have any currency (crypto or otherwise) in the exchange. This means that we will need to deposit some money from our bank account into the exchange for us to trade with later, in order to buy some
.
Click on the market dropdown (1) and select your currency to
. For me, this is BTC to GBP. Then click on the deposit button (2).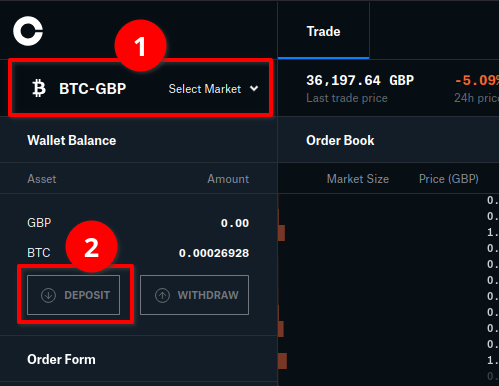 Then select your currency: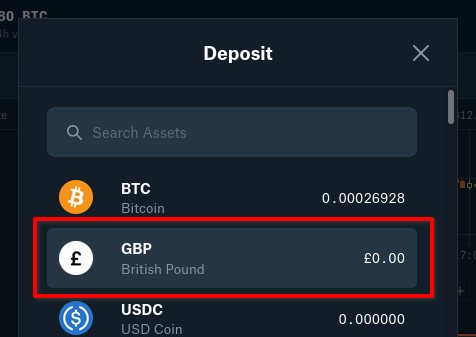 Then select UK Bank Transfer, rather than Coinbase.com. I know that with a direct bank transfer there are no fees, whereas there might be if transferring from Coinbase.com (haven't tried).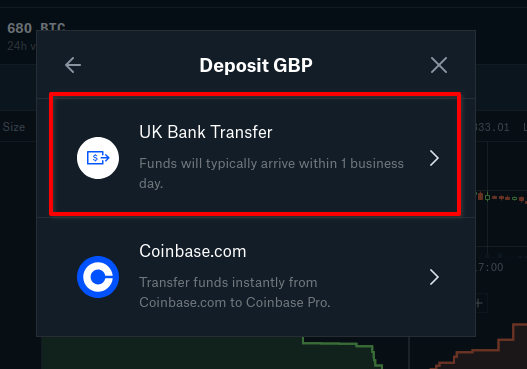 Then you will be given a chance to select your portfolio (1). If you just joined, you probably haven't set up another, so just leave it as the default provided and click the continue button (2).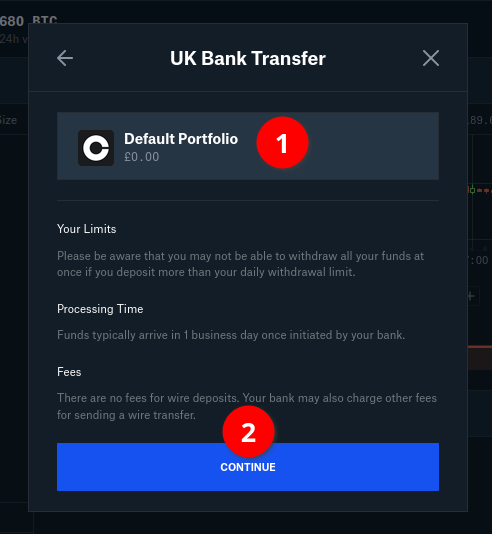 Finally, you will be shown a set of details to use to transfer money to the exchange. Make sure to enter all of these details into your bank's website or mobile application exactly so that the money goes to the correct place. Since I used Monzo, I used the wifi keyboard app to allow me to copy/paste the reference number from my computer, into my phone. An alternative way would be to email yourself the details and copy from the email on your phone.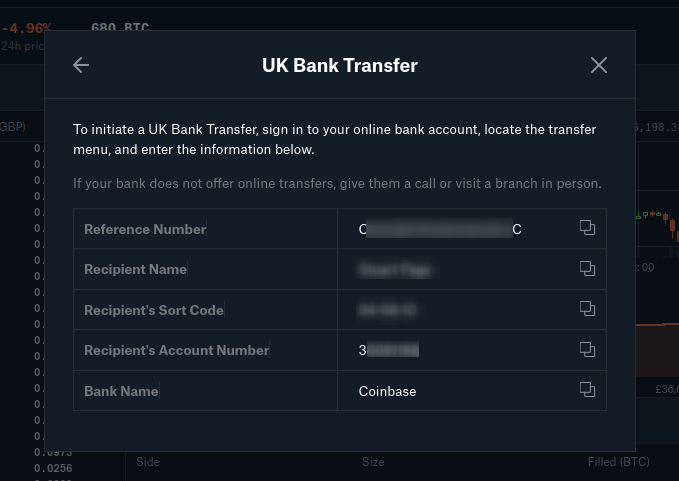 I would urge you to start off by depositing something small like £5 or £10 maximum to begin with. That way if something goes wrong in any way, such as putting in a stupidly large buy order by accident, this limits you to losing the cost of a coffee. No big deal. Once you understand the platform, you can deposit more. There's no increased cost in doing so.
After pressing send on the transfer, you can expect to wait a few minutes or less before the funds appear in your account. You will also receive an email notification from Coinbase to let you know when they have received the funds.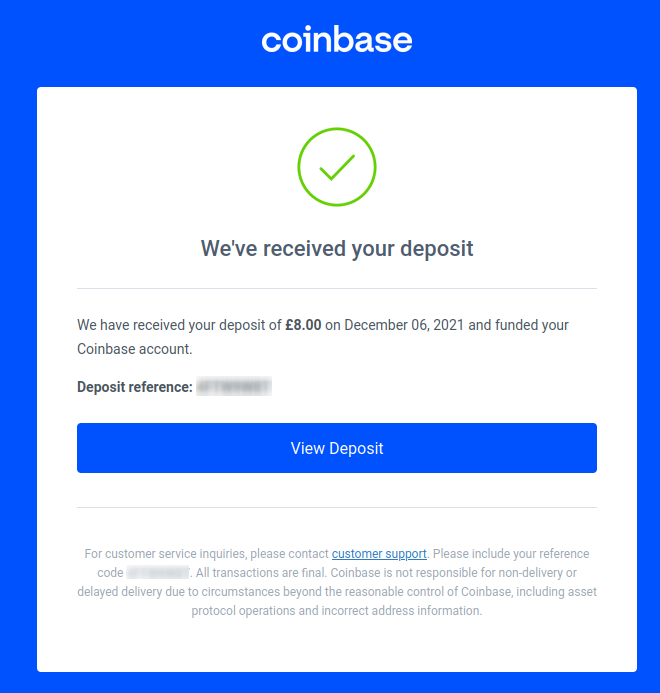 Buying Bitcoins - Placing A Buy Order
Placing a buy order for
seems more complicated and scary than it actually is. However, you will definitely get a much better deal than if you were to just buy the coins using the regular Coinbase site which won't buy the coins at as good of a price (1), and charges a hefty fee (2) on top.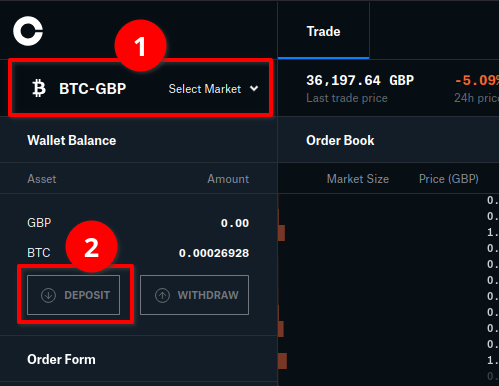 Navigate to pro.coinbase.com and create an account if you haven't already. Then on the left-hand side you will see the following (details about each number below the image).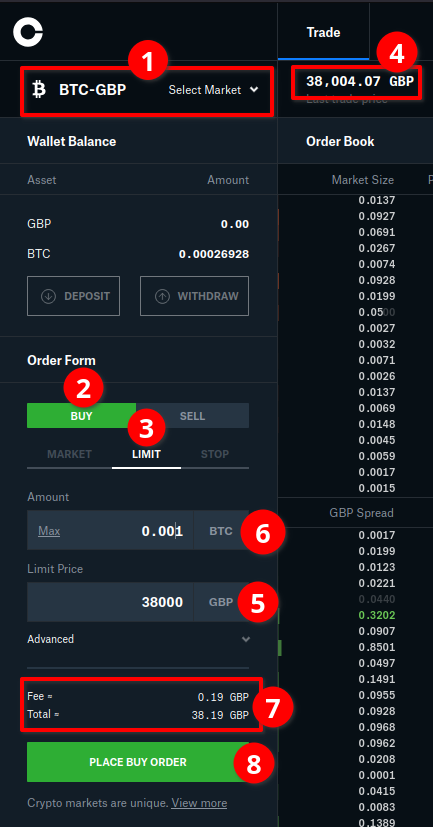 First, select the market you wish to trade e.g. what currency do you want to convert to. For me, I want to convert British Pounds, so I select BTC-GBP.



Make sure that "Buy" is selected so we are buying .



Select "Limit" as we want to put in a buy order at a good price that we hope will eventually get filled. If you just want to buy at the current lowest offered prices, then you would select "Market" instead. Stop orders are more complicated and I will have to cover them in another post. Suffice to say you probably don't want to make use of this when getting started.



Check the current market price, you will need this for the next step.



Input the trading price that you wish to buy the at. This should be a number that is somewhat lower than the current market price you just checked in the previous step. The lower you make it, the better the deal if it gets filled, but the less likely it is going to get filled.



Input the number of you wish to purchase. This multiplied by the Limit price (plus the fee), is how much currency your order will spend if it completely fills.



Check that you are happy with the fee/total. The total dynamically calculates for you based on the math described in the previous step. You will notice that the fee is only 5p, which is dramatically better than the £1 fee the coinbase.com site wanted to charge.



Once you are happy with all of the settings, click the place buy order button to send off the order. This will result in the currency immediately being taken out of your account so that it is available as the order fills.


Transferring Coins Out - Network Fees
Unfortunately, when one wishes to transfer
out of Coinbase, and into one's own wallet for safe-keeping, there is a network fee of 326 Satoshis, which at the time of writing this post, is equivalent to 12 pence. This seems rather steep for not doing anything, but at least it seems to be a flat fee that didn't rise as I increased the amount, so try to do this as infrequently as possible.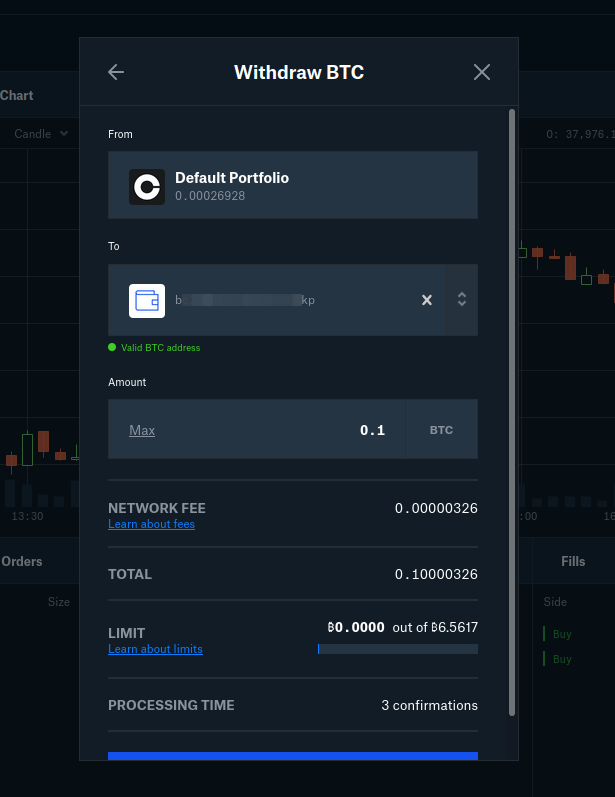 In my opinion, it's a good idea to store ones coins outside the platform into an offline wallet. Platforms are always getting hacked.
Conclusion
That's it. I'll keep updating this post as I continue to use the platform. If you feel that there is something important that I missed or got incorrect, please point it out in the comments below.
Last updated: 9th December 2021
First published: 9th December 2021