Terminator - Terminal Emulator
Terminator is currently my favorite terminal emulator because its split window functionality is perfect for getting the most out of my vertically rotated monitors.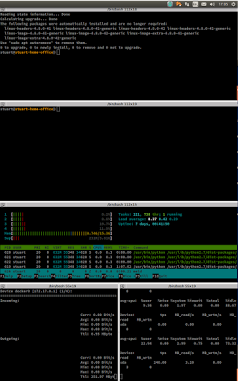 As you can see from the screen-shot above, terminator can be split both vertically and horizontally, in any matter that you want. You can drag the borders/edges between terminals to adjust them to the size that fits you best. It's functionality is extremely similar to Terminix, but of the two I find myself going back to Terminator, especially as it doesn't warn me every time I try to run one of my scripts with sudo. That feels too Windows-like.
Install
To install terminator, you can simply run:

sudo apt update && sudo apt install terminator

... or Ubuntu users can use the PPA.

sudo add-apt-repository ppa:gnome-terminator/ppa
sudo apt-get update

References
Last updated: 19th February 2020
First published: 16th August 2018