Connecting Thunderbird To Office 365 When Using 2FA / MFA
Two-factor authentication (2FA), is a fantastic security mechanism that will definitely save you one day. Unfortunately, it can cause integration issues when one tries to use third-party applications like Thunderbird. This tutorial will show you how to resolve this so that you can still use Thunderbird as your email client for office 365.
Steps
The solution is actually rather simple. We just need to create a specific password that only Thunderbird will use. This is referred to as an "App password", and is more like a "token", except that it does not expire. The idea is that by creating passwords for each individual application, one can easily revoke specific applications when one has finished using them. Google does the same thing.
Go to the additional security verification page and search for and click App passwords (it looked like a title near the top of the page).
Click on the button for creating a new password.
In the dialogue box that appears provide a name to remember the password by. I recommend using the name of the application that is going to be using the password:

Microsoft will generate a random password for you. Copy this to your clipboard or write it down manually in a text editor.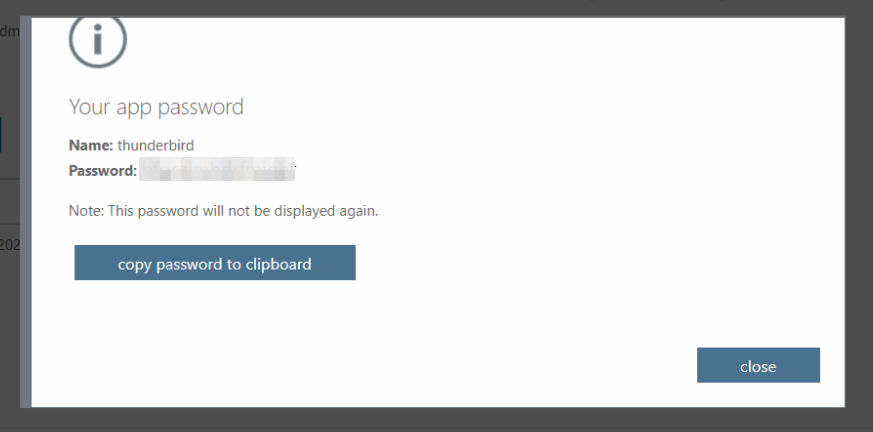 You should see the names for the passwords in the overview screen now.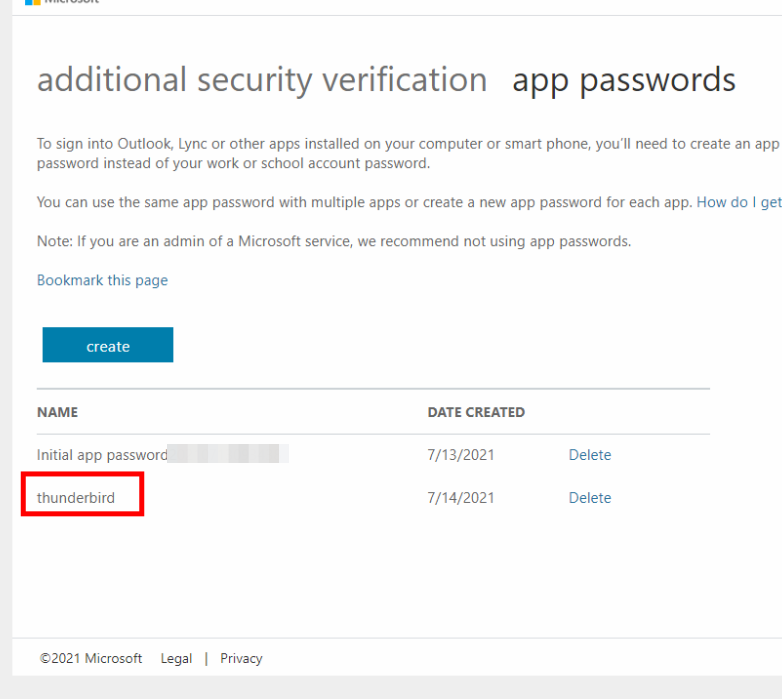 Go back to thunderbird, and when it next prompts you for a password, enter this new password and be sure to select the tickbox to save it.
I would recommend sending yourself a test email at this point. It will likely ask you for a password again. This is because it was asking for the password for recieving emails through IMAP. Now it wants the password for sending emails through SMTP. Just enter the password and check the checkbox for saving using password manager.
That's it!
Update 8th October 2022 - Use OAuth Method
I had to set all of this up again recently, and could not get it to work even after contacting support. In the end, I managed to work around the issue by clicking on "configure manually", and then changing the authentication mechanism from "Normal passowrd" to Oauth, which brought up a prompt for me to login through before accepting that the Thunderbird app would need a bunch of permissions before proceeding.
References
Last updated: 8th October 2022
First published: 14th July 2021